The second most popular meme coin in the crypto market, Shiba Inu (SHIB), is about to launch its long-awaited Layer 2 scaling solution shibary.
While lead developer Shytoshi Kusama has repeatedly said in recent weeks that a release date isn't set yet, but will be "soon," he may have leaked the beta release date himself in a word puzzle. He revealed the decisive clue in his Twitter bio, where he writes:
Taking care of the Pine of Life. Quickly learning to play the flute before putting Shibarium in a heart-shaped box with a bow.
For the Shiba Inu community, this is an unequivocal clue that the beta version of Shibarium will be published Valentine's Day, February 14.
Already on January 15, Kusama had published a prelude to her announcement, where she mysteriously fixed:
During the fall, the tree may have only a few leaves, but then spring appears.

Fortunately, Shibarium, in this context, is a pine tree. Still, it needs water, sunlight, and proper soil. But the pines survive and thrive during the harshest of winters. (I also heard that needle tea is good for you.)
Shiba Inu (SHIB) price reacts by rising 4%
Shiba Inu (SHIB) is up almost 4% in the last 24 hours and 21% in the last week, with the price currently at $0.00001249. Trading volume was around $305 million in the last 24 hours, which is a -55% decrease from the previous time period.
Year-to-date (YTD), SHIB is up 43% at current price, the highest level since early November 2022.
This rally has been driven mainly by two reasons: on the one hand, macroeconomic sentiment has improved substantially, giving a strong boost to the broader crypto market, and on the other hand, Shibarium has provided some level of FOMO.
However, a look at the SHIB 1-week chart reveals that the price is yet to be assessed as mostly bearish. On its third attempt since September 2022, SHIB price failed to close above $0.000014 on a weekly basis.
The resistance zone between $0.000013 and $0.000014 has so far proved too stubborn to confirm a breakout of the bearish territory.
The 1-day chart very clearly shows the massive drop from the lower end of the resistance zone at $0.000013. Currently, however, the SHIB is finding support at the 200-day EMA.
As noted by the daily RSI, Shiba Inu (SHIB) is in an overbought condition. On a daily basis, the RSI remained significantly in the overbought zone, 79 at press time.
Ideally, the RSI causes investors to reduce their positions and thus initiate a price correction based on price. Otherwise, there would have to be a correction in time, which would mean a longer sideways trend below the resistance zone.
In order to trigger a sustained bullish breakout on the daily and weekly charts, Shiba Inu needs to break above the $0.000014 level in the next few weeks.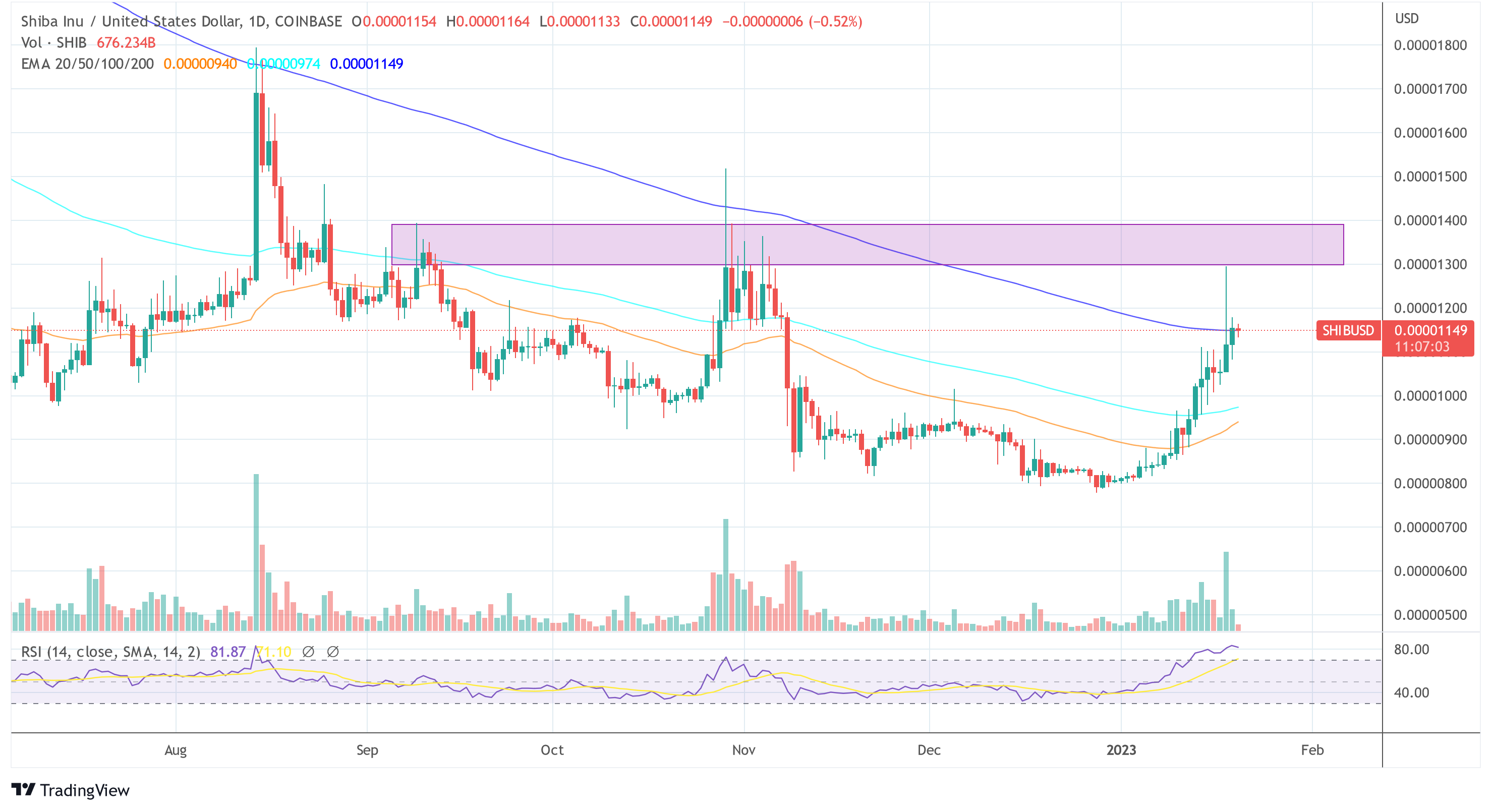 Featured Image from VOI, Charts from TradingView.com